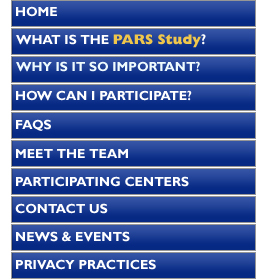 How can I participate?
---


Who can participate?
You may be eligible to participate in this study if:
You are greater than 60 years old with or without a relative affected by Parkinson disease
You do not currently have a diagnosis of Parkinson disease, Alzheimer disease, or other related neurological disorder.

What will I be asked to do?
If you are interested in participating in this study, we would ask that you complete a brief questionnaire which will help us determine whether you are eligible. This Questionnaire can be filled out online by clicking form online below; it can be downloaded so that you can print it and mail back to us; or you can contact us and we will be happy to send you one. If you are eligible to participate, we will send you a packet in the mail that describes the study in more detail. The packet will also contain a longer questionnaire and smell test to be completed at your home and mailed back to us in a prepaid envelope.

Once we have received your questionnaires and smell test we may contact you to undergo additional follow-up evaluations. The follow-up evaluations may include a visit to a participating Parkinson research center which is closest to you, additional questionnaires and smell tests to be completed by mail, blood testing or other laboratory testing and brain imaging. To learn more about the brain imaging that is being evaluated in this study click here

How can I participate?
You can join in four ways: